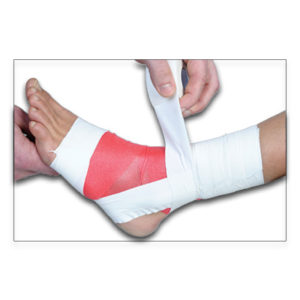 Some medical supplies have multiple purposes. Pre-wrap, for instance, has many uses for medical and non-medical needs. Athletes and non-athletes can find purposes for this soft, thin foam substance.
What is Pre-Wrap?
Pre-wrap is a thin, translucent foam substrate that is highly porous and strong. It comes in many colors, becoming versatile for different uses. The foam is created to cling to itself while not sticking to other materials. It is soft while being highly effective for many athletes' needs.
Pre-wrap is designed to help protect skin from other medical supplies, such as tape and bandages, that may cause chafing or inflammation. It goes on before athletic tape to protect the area being bandaged. Pre-wrap can also be used to hold equipment or clothing in place. It can be used to hold socks or pads in place while competing. It can also act as a protective measure inside athletic footwear to prevent blistering.
Uses for Pre-Wrap
People can get really creative with pre-wrap. We've found a lot of uses for pre-wrap ourselves and have compiled a list of some useful and some entertaining manners to use pre-wrap.
1. Pre-wrap under a bandage
2. Pre-wrap as a thin headband (braid three colors together)
3. Pre-wrap as a flat, thicker headband
4. Pre-wrap to hold up soccer (or other athletic) socks
5. Use pre-wrap as shoelaces
6. Use pre-wrap as streamers (especially for an athletic themed party)
7. Pre-wrap an ice pack in place
8. Use pre-wrap to hold long stem flowers together for a bouquet arrangement
9. Use pre-wrap while fishing to attract fish
10. Use pre-wrap for marking a trail (wrap around trees or branches)
11. Pre-wrap as a pencil grip
12. Use pre-wrap to mark colors of flowers in a garden
If you are a fan of pre-wrap and have other ways you like to use it, please share with us! We'd love to hear and see how you like to use this versatile product.
Keep current with us all the time. Check out our Facebook, Twitter and Pinterest pages for up-to-date information from E-First Aid Supplies.
References
Pre-Wrap Rolls