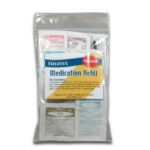 Every week we highlight one of our products in an effort to educate our customers on not only what E-First Aid Supplies has to offer but also how to be prepared for different, unique situations.
This week's Product of the Week is the medication refill kit. The medications in a first aid kit generally come in small doses. Checking your first aid kit on a regular bases is a good way to keep your supplies replenished. The medication refill kit contains a variety of small doses of essential medications to refill your first aid kit with, including: antihistamine, anti-diarrhea, antacid, aspirin and motion sickness medication.
For more information on this product, click here.
For more information on good first aid kit hygiene, click here.
To stay up-to-date with E-First Aid Supplies, follow us on Facebook, Twitter and Pinterest