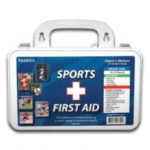 Every week we highlight one of our products in an effort to educate our customers on not only what E-First Aid Supplies has to offer but also how to be prepared for different, unique situations.
This week's Product of the Week is the coach's medium plastic first aid kit. With fall sports starting for athletes of all ages, coaches and parents need to be prepared for injuries during practices and games. This kit is perfect for treating minor sports injuries, containing over 60 assorted medical supplies including: plastic bandages of varying sizes, gauze pads, antiseptic wipes, cold packs, antibiotic ointment and an elastic bandage.
For more information on this product, click here.
For more information on customizing your sport first aid kit, click here.
To stay up-to-date with E-First Aid Supplies, follow us on Facebook, Twitter and Pinterest